IT'S YOUR CALL NOW! (CALL VOTE #2!)
Mighty Beckers!
Back at the end of our Kickstarter campaign, over 80,000 backers, friends and supporters took part in the first round of our community vote to decide the look for Mighty No. 9's fan-favorite heroine, Call. (Cue dramatic music.)
When the dust settled, we were left with three contenders -- three designs that enough of you found worthy enough to continue on to the second round of backer-only deliberation.
And so here we are: Starting today, those three finalists return, fleshed out and fully colored in by their original creators (er, well, not Dr. Sanda, but...you know what we mean):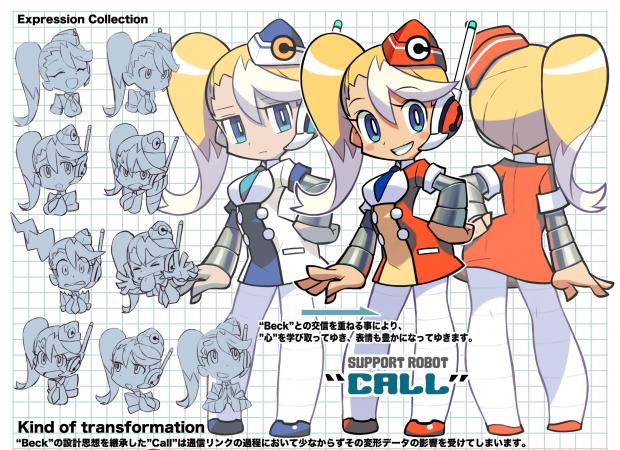 Call E, by freelance artist Hideki Ishikawa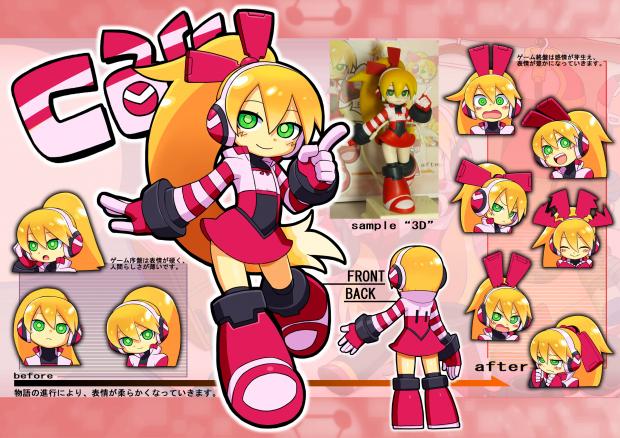 Call F, by Yuuji Natsume of developer Inti Creates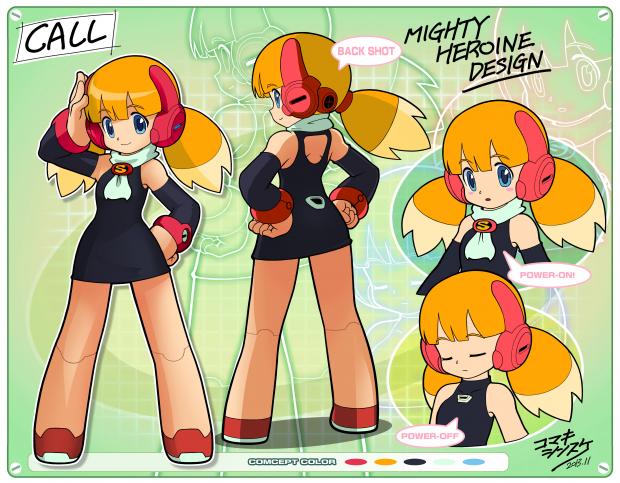 Call H, by Comcept's own Shinsuke Komaki
Now, the final contest begins: a battle royale of sorts (shades of the Battle Colosseum, eh?). Which one will form the basis for our heroine in the final game? It's your Call now! Just follow these three easy steps:
Check the email you used to back the Kickstarter or to pledge via PayPal (or if you updated your contact email on the forums, check there) over the next four days (we are limited to sending 20,000 a day, so if you don't have yours yet, please wait just a little while longer! :). And if you don't see an email after the 23rd, please check your spam filter / junk email folder!

Find the email "Mighty No. 9: Community Vote No. 2: FINAL CALL DESIGN!", and click on the link. It's a unique URL for each backer, so keep it secret, keep it safe! And then...

...VOTE!
Just remember: You have until the end of day, Saturday, Dec. 28th at midnight PST time to get your vote in, and everyone only gets one vote, so make it count!
The final winner will be announced on Dec. 29th, but in the meantime, why not sound off here  (or to our official Twitter account or Facebook page) on which Call you want to / already picked, and why? Or share awesome fan art of your favorite?
Happy holidays, and happy voting! (`_´)ゞ
-Dina (Mighty No. 1046), Koji Imaeda (Mighty No. 610), Mark (Mighty No. 84), and the Mighty No. 9 Team
P.S. If you're on SurveyMonkey's opt-out list, please opt-in at https://www.surveymonkey.com/optin.aspx to get your email. If you still haven't gotten an email by the end of Dec. 23rd PST, you can email backerpoll@comcept.jp, subject "Missing Call #2 email" and we will try to get you squared away ASAP!