THE WINNER TAKES IT (C)ALL!
Drum roll, please!
The Mighty Community has spoken, and we have heard your Call!
It's finally time to unveil the winner of the Call Vote, and so, by popular demand, I give you the results of the second Call Vote:
In 3rd place...
Call H! (15.47% of the vote)


In 2nd place...
Call E!! (41.14% of the vote)

And so, the winner of the second and final round of the Call design vote, scoring 43.39% of the votes and thus becoming the basis for our heroine in the final game --

Call F, by Inti Creates' Yuuji Natsume!!!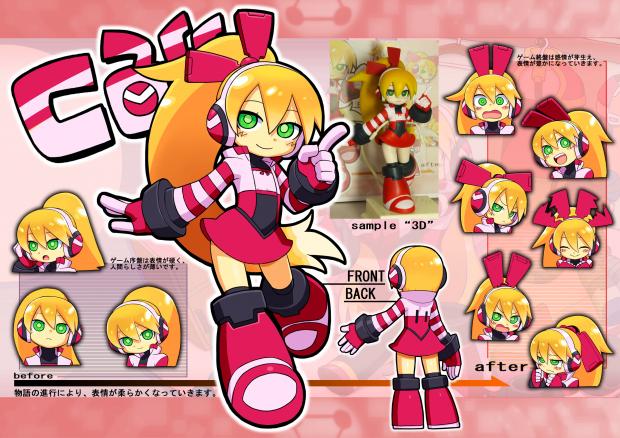 (above) Call F, by Yuuji Natsume of developer Inti Creates

 
Call F exits the Battle Colosseum triumphant, as the people cheer her on!!
We'd like to say thank you to all the Backers who contributed to making this second vote a great success! The battle got heated at times, but the Mighty Numbers stayed strong and campaigned through numerous threads to support their favorite Call! We couldn't have done it without you, and the goodwill and enthusiasm surrounding this Poll! Thank you, Mighty Beckers!
What's your take on the vote? Wish to laud the victor? Lament the vanquished? Let us know how you feel in the forums, KS comments section, and on Facebook and Twitter!
In other news, the New Year is almost upon us and we hope you're ready to welcome it!
While you'll want to have your eyes on the skies for the New Year's Eve fireworks, you might want to peep at the forums too on January 1st for a little surprise! (Shhhh…)
-Dina (Mighty No. 1046), Koji Imaeda (Mighty No. 610), Mark (Mighty No. 84),
and the Mighty No. 9 Team